33rd ESPU Congress in Lisbon, Portugal
SN1: FUNCTIONAL VOIDING DISORDERS 1
Moderators: Hanny Cobussen-Boekhorst (NL), Ananda Nacif (QA)
ESPU-Nurses Meeting on Thursday 20, April 2023, 09:20 - 10:20
---
09:20 - 09:30
SN1-1 (OP)
LONG LASTING IMPACT OF EARLY LIFE VOIDING DYSFUNCTION ON LOWER URINARY TRACT FUNCTION: A MURINE MODEL
Nao IGUCHI 1, Duncan WILCOX 2, Anna MALYKHINA 3 and Dan WOOD 2
1) University of Colorado Denver, Surgery, Aurora, USA - 2) Children's Hospital Colorado, Aurora, USA - 3) University of Colorado Denver, Aurora, USA
PURPOSE
To investigate long term outcome of voiding dysfunction during early childhood using a murine model. Despite the association between childhood dysfunctional voiding and lifelong bladder dysfunction, the underlying mechanism remains poorly understood. Neonatal maternal separation (NMS) disturbs the physiological voiding cycle in mouse pups; which is normally maintained by perigenital-bladder reflex via their mother licking the perineum.
MATERIAL AND METHODS
Newborn mouse pups were divided into control and NMS groups after birth. NMS pups were removed from their dam and housed individually (6h/day) from postnatal day 2 to 14. The control group stayed with their dam all the time. Long-term effects of early life voiding dysfunction on lower urinary tract (LUT) were assessed in vivo by void spot assay at 3-, 6-, and 12-month-old, and in vitro by detrusor physiology studies using bladder strips at 12-month-old.
RESULTS
NMS male mice showed urinary frequency with small voids by 1.6 to 2.2-fold compared to the control mice (p<0.05) through middle-age (12month-old ≈ 40yr-old human). A similar trend towards increased number of small voids was observed in female mice experienced NMS compared to those in control group, while the change was but statistically insignificant (1.2 to 1.5-fold, p>0.05). No differences in the number of large voids and total volume of void were detected between NMS and the control mice. A significant increase in nerve-mediated and purinergic agonist-induced detrusor contractility was observed in NMS group compared to the control group (1.4-fold, p<0.05). There were no changes in contractility in response to carbachol or substance-P (SP) between the two groups. However, preincubation of the bladder strips with SP induced a 1.6-fold larger decrease in nerve-mediated contractility in NMS group than that in the control group (p<0.005).
CONCLUSIONS
Our results provide evidence that the early life disturbance of normal voiding cycle had prolonged impacts on LUT function accompanied with an enhanced involvement of purinergic and peptidergic neurons/signaling in detrusor contractility even into later of life.
---
09:30 - 09:40
SN1-2 (OP)
COULD PELVIC FLOOR DYSFUNCTION BE A CAUSE OF GIGGLE INCONTINENCE?
Aygul KOSEOGLU 1, Tugce ATALAY 1, Ece Zeynep SAATCI 1, Melis UNAL 1 and Halil TUGTEPE 2
1) Uropelvic Solutions Clinic, Pelvic Floor Rehabilitation, Istanbul, TURKEY - 2) Private Tugtepe Pediatric Urology Center, Institude of Graduate Studies, Division of Physiotherapy and Rehabilitation, Istanbul University-Cerrahpasa, Division of Bladder & Bowel Dysfunction, Istanbul, TURKEY
PURPOSE
Giggle Incontinence (GI), is a rare condition characterized by the total emptying of the bladder right after or during laughter. One of the most basic causes of GI is the failure of the pelvic floor muscles (PFM) during laughter, due to the detrusor pressure and abdominal contractions by the PFM atonia. We aimed to investigate the effects of underactive PFM treatment on the GI episodes of children with GI complaints by the evaluation of PFM activations.
MATERIAL AND METHODS
8 (7 female; 1 male) children with GI who applied between the dates of January 2022 and July 2022. NeuroTrac MyoPlusPro4–EMG was used to evaluate the PFM activations. The before and after results were compared by the re-calculation of measurement parameters after the pelvic floor rehabilitation sessions were done once every week.
RESULTS
Patients' age was 10±2.73 years. The severity of incontinence before the treatment of all patients was so severe that they emptied their bladder and wet their clothing. After the treatment, the severity of incontinence decreased to the size of a coin in underwear in 4 patients (50%), and the episodes disappeared completely in 4 (50%) patients. Before treatment, 5 (62.5%) of the patients had underactive, 2 (25%) overactive, and 1 (12.5%) non-functional PFM. After treatment, PFM of all patients was functional. Although the frequency of episodes decreased after treatment, there was no statistically significant difference. PFM strength increased after the treatment, but no statistically significant difference was found. Uroflowmetry and PFM-EMG activation values before and after treatment are given in the table.
CONCLUSIONS
Pelvic floor dysfunctions may be a cause of GI episodes. It is possible to treat children diagnosed with GI with pelvic floor rehabilitation, which includes PFM awareness and functional PFM training.
---
09:40 - 09:50
SN1-3 (OP)
EVALUATION OF PELVIC FLOOR MUSCLE FINDINGS IN CHILDREN WITH PRIMARY MONOSYMPTOMATIC NOCTURNAL ENURESIS.
Canan SEYHAN 1, Emre Serdar ATALAY 2, Engin KAYA 3, Asli OZTURK 4, Ece ÖZKAN 4, Hasan Cem IRKILATA 5 and Murat DAYANÇ 4
1) Health Science University, Ankara, TURKEY - 2) Health Science University, Physiotherapy and Rehabilitation Department, Ankara, TURKEY - 3) Istanbul Health& Tecnology University, Urology, İstanbul, TURKEY - 4) Private Dayanc Urology Center, Ankara, TURKEY - 5) Private Davraz Yasam Urology Center, Isparta, TURKEY
PURPOSE
Little is known about the pelvic floor muscles (PFM) of children with primary monosymptomatic nocturnal enuresis (PMNE). This study aimed to investigate PFM functions in children with PMNE.
MATERIAL AND METHODS
A total of 48 voluntary children with PMNE were included in this prospective study. PFM activities were evaluated with physical examination using Modified Oxford Scale (MOS) and were measured using surface electromyography (EMG). According to the MOS, children had 3 and 3+ were accepted normal, and 2+ and below were weak PFM activity. The contraction and relaxation values of the PFM were measured, followed by 5 seconds of relaxation and 5 seconds of contraction, and the mean values of the 50 second period were recorded with EMG. Rest values above 2 µV were accepted as overactive pelvic floor (OPF). The PFM contraction amplitude was calculated by the contraction-relaxation difference (CRD).
RESULTS
The mean age was 10,12±3,25. The M/F was 35/13 (73/27%). The mean MOS was 1,63±1,14. The average contraction and relaxation were 7,11±3,10 and 3,59±2,14 µV, respectively. According to the MOS, PFM activity was found weak in 73% of children. OPF was found in 81% of children by EMG. The average contraction was correlated with MOS and CRD (p<0,01 and p<0,01, respectively). The CRD was positively correlated with the MOS (p<0.01) and negatively correlated with the mean relaxation (p<0.01). There was no relationship between PFM findings and age/gender (p>0.05).
CONCLUSIONS
Overactivity and weakness of PFM in children with PMNE are common. Future studies are needed to understand the clinical importance of these study results.
---
09:50 - 10:00
SN1-4 (OP)
THE RELATIONSHIP BETWEEN VOIDING PATTERN AND PELVIC FLOOR MUSCLE ACTIVITY IN CHILDREN WITH LOWER URINARY TRACT DYSFUNCTION
Aslı ÖZTÜRK 1, Canan SEYHAN 1, Hasan Cem IRKILATA 2, Burak KÖPRÜ 3 and Murat DAYANÇ 1
1) Private Dayanc Urology Center, Ankara, TURKEY - 2) Private Davraz Yasam Urology Center, Isparta, TURKEY - 3) Private Koru Hospital, Ankara, TURKEY
PURPOSE
Beside to bladder and rectum dynamics, pelvic floor muscle activities (PFMA) play an important role in the pathophysiology of lower urinary tract dysfunction (LUTD) in children. In this study, we aimed to determine the contraction and relaxation functions of PFMA in children with LUTD.
MATERIAL AND METHODS
Among 72 children diagnosed with LUTD, 19 were intermittent, 33 were staccato, and 20 were bell shaped voiding patterns during uroflowmetry. PFMA were measured using superficial electrodes in the postvoid period, which is the resting phase of the pelvic floor muscles. During the measurement, 5 seconds of contraction and 5 seconds of relaxation were performed, and the average values of the 50-second period were recorded.
RESULTS
The mean PFMA values in the contraction and relaxation periods according to the voiding pattern are shown in the Table.Relaxation was less in children who voided intermittently/staccato than those with bell curve, but it was not statistically significant(Figure).Contraction was worst in children who voided intermittently, better in staccato voiders, and best in those voiding bell curves, the difference between intermittent and bell-shaped voiding was statistically significant (p=0,012)(Figure).When the difference between contraction and relaxation was evaluated, both intermittent and staccato voiding had statistically significantly less contraction amplitude than bell curve voiders (p=0,0001; p=0,009)(Figure).

CONCLUSIONS
PFMA measurement is a noninvasive and easy method that can be used to evaluate pelvic floor contraction and relaxation functions and to understand the pathophysiological mechanism.In children with dysfunctional voiding, as the voiding pattern worsens by shifting from staccato to intermittent, pelvic floor muscle contraction and relaxation ability decreases.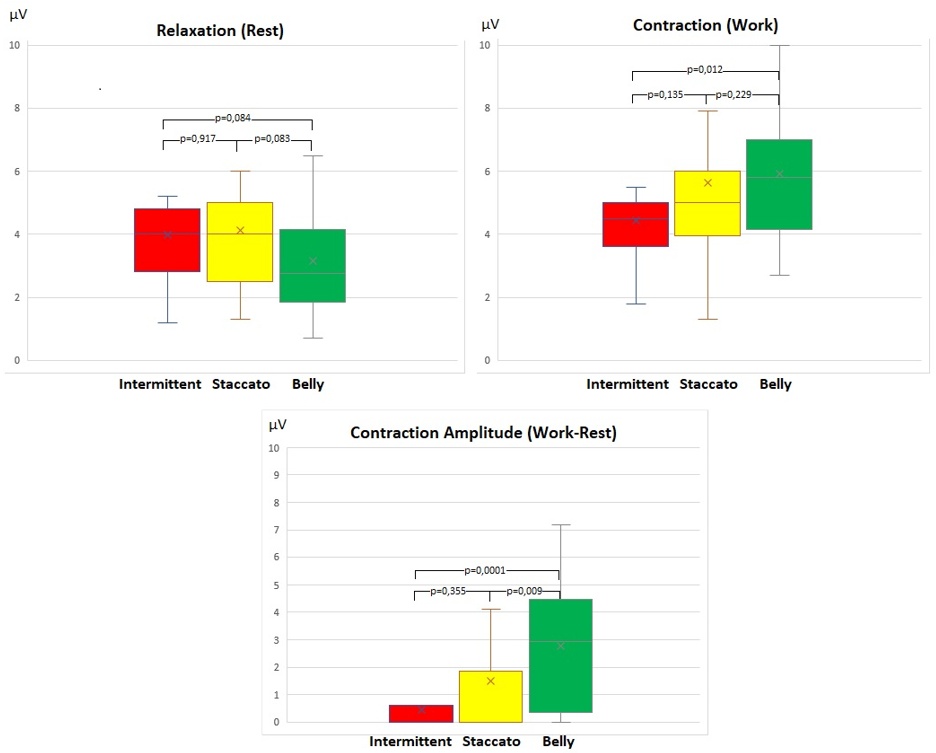 ---
10:00 - 10:10
SN1-5 (OP)
EVALUATION OF EMOTIONAL, BEHAVIORAL, PHYSICAL STATUS AND QUALITY OF LIFE OF CHILDREN WITH LOWER URINARY SYSTEM DYSFUNCTIONS
Ece Zeynep SAATÇI 1, Hali̇l TUĞTEPE 2, Aygül KÖSEOĞLU 1, Tuğçe ATALAY 1 and Ebru KAYA MUTLU 3
1) Uropelvic Solutions Clinic, Pelvic Floor Rehabilitation, Ataşehi̇r, TURKEY - 2) Private Tugtepe Pediatric Urology Center, Ataşehi̇r, TURKEY - 3) Bandırma 17 Eylül University, Division of Physiotherapy and Rehabilitation, Balıkesir, TURKEY
PURPOSE
Lower urinary system dysfunctions (LUTD) are voiding dysfunctions without anatomical or neurological involvement. Symptoms are standardized by the International Children's Continence Society (ICCS). There are a few studies associating patients' and parents' quality of life (QoL) with cognitive and school performance. The aim of this study is to evaluate the QoL of children with LUTD and to compare parent and child perspectives.
MATERIAL AND METHODS
43 patients (Group 1) and 43 healthy (Group 2) children aged 5-12 years who were diagnosed with LUTD for the first time participated in the study. In order to evaluate QoL of the participants, the child and parent forms of the Pediatric QoL Inventory (PedsQL) for the age groups of 5-7 and 8-12 were applied. The scale has 23 questions in total. It's results were analyzed for the scales four sub-parameters which are, physical health (PHS), emotional functioning (EFS), social functioning (SOC-FS), and school functioning (SFS).
RESULTS
According to the "Independent-Samples T" test results, a statiscally significant difference was found among the groups at the PedsQL-Child forms PHS, EFS, SFS sub-parameters. There was also a statiscally significant difference among the groups at PedsQL-Parent forms EFS, SOC-FS, and SFS sub-parameters as well (p=0.004, p=0.001, p=0.001, p=0.001, p=0.001, p=0.017, respectively). It was determined that the QoL levels of the LUTD group were lower in all sub-parameters of the scale compared to the healthy group.
CONCLUSIONS
LUTD; negatively affects children's physical and emotional functionality and academic achievement. Parents of children with LUTD perceive their children's QoL to be lower in terms of emotional functioning and school functioning. Health professionals should be informed about the effects on QoL of children with LUTD and should follow an interdisciplinary approach to mitigate the negative effects of psychological consequences on both the child and the parents.
---
10:10 - 10:20
SN1-6 (OP)
SUPRAPUBIC VESICOSTOMY BUTTONS: INDICATIONS, COMPLICATIONS AND LONG-TERM OUTCOME
Roma Subhash VARIK, Niamh GEOGHEGAN, Diane DECALUWE, Nishat RAHMAN and Marie-Klaire FARRUGIA
Chelsea and Westminster hospital, Paediatric Surgery and Paediatric Urology, London, UNITED KINGDOM
PURPOSE
The AMT mini-classic gastrostomy button, inserted via a vesicostomy, is a recognised temporary bladder-drainage option where clean intermittent catheterisation (CIC) is not possible. It allows day-time bladder cycling and urethral voiding (where possible), with overnight drainage. We aimed to review our long-term outcomes.
MATERIAL AND METHODS
Single-institution retrospective review (2007-2022). Mini-button was inserted via a surgical vesicostomy. Drainage protocols depend on diagnosis but normally entail overnight drainage with day-time cycling.
RESULTS
29 children (23 males) were included. Diagnoses were bladder outlet obstruction (9); anorectal-malformation/urogenital sinus/cloaca (8); acontractile bladder (6); neuropathic bladder (5); colitic perianal fistulation (1). Median age at insertion was 42 (6-174) months.
Indications were poor bladder emptying (19); overnight drainage for upper tract dilatation/ renal functional deterioration/ polyuria (8); complete urethral obstruction (1); diversion (1). Prior failure to CIC was due to anatomical abnormality; sensate urethra; behavioural challenges. Complications included colonisation/ UTI (9); leakage (8) and blockage (2); one wheel-chair bound patient needed surgical re-siting.
At median follow-up 118 (20-289) months, 11 (38%) are still dependent on their button. In 10 (34%) the button was/will be replaced by a Mitrofanoff. The vesicostomy was closed in 6 patients, while 2 are awaiting closure; all (28%) are voiding spontaneously with safe emptying.
CONCLUSIONS
Vesicostomy button is a safe temporary bladder diversion option. Urethral voiding/emptying was resumed in 28% with reversible bladder dysfunction. In 27%, it allowed rapid control over deteriorating upper tracts/ renal function. Patients with life-long bladder dysfunction were converted to a Mitrofanoff once old enough to undergo bladder augmentation and tolerate catheterisation.