33rd ESPU Congress in Lisbon, Portugal
T&T: TIPS & TRICKS
Moderators: Gianantonio Manzoni (Italy)
ESPU Meeting on Thursday 20, April 2023, 17:05 - 17:55
---
17:05 - 17:10
T&T-1 (SOP)
LAPAROSCOPIC PERCUTANEOUS TRACTION SUTURE- AN ALTERNATIVE TECHNIQUE
John-Paul CAPOLICCHIO
Montreal Children's Hospital, McGill University Health Center, Division of Pediatric Urology, Montreal, CANADA
ABSTRACT
Traction sutures help to minimize the number of laparoscopic ports. Transabdominal passage of a Keith needle is widely described for such use. This technique has 4 limitations- use of the large needle is cumbersome in small spaces, awkward to control with small 2 and 3 mm instruments and can tear delicate tissues. Most importantly, the percutaneous suture exit site is determinedpriorto manipulation of the organ or tissue needing exposure and cannot be modified if it is suboptimal.
For over a decade, we have used a different technique which relies on the use of an alligator forceps used in pediatric otolaryngology surgery and overcomes of all the limitations mentioned. The forceps mimics the principle of a Carter-Thomason fascial closure device, but is slimmer and has the same calibre as a Keith needle. This technique allows for the use of whatever suture and needle can be passed through the laparoscopic port. This permits a finer needle which is less likely to tear a delicate ureter. In addition, the exposure can be optimized by choosing the best exit site, which can be changed easily should the desired exposure change.
We present a short video illustrating the technique.
---
17:10 - 17:15
T&T-2 (SOP)
LESS IS MORE: A SIMPLE AND EFFECTIVE TRICK TO AVOID THE NEED FOR CONTRALATERAL INGUINAL LAPAROSCOPY WHEN PERFORMING A PEDIATRIC INGUINAL HERNIA REPAIR
Martin KAEFER
Riley Hospital for Children, Urology, Indianapolis, USA
ABSTRACT
It has become common practice to perform contralateral inguinal laparoscopy at the time of hernia repair in order to identify an occult contralateral hernia. Due to a concern for false positive laparoscopic findings resulting in unnecessary contralateral exploration, we hypothesized that simple abdominal insufflation is sufficient in and of itself to identify all clinically significant contralateral inguinal hernias.
With the patient in 30 degree Trendelenburg position the abdomen is insufflated to 15 cm H2O. If either visual (i.e. inguinal-scrotal swelling) or palpable (i.e. crepitus) evidence of a contralateral hernia is noted, then contralateral surgical repair is undertaken. During a 12-year period, 194 children undergoing inguinal hernia surgery were prospectively evaluated in this fashion. Twenty- nine (15%) exhibited contralateral evidence of a patent processes vaginalis and this was confirmed in 100% of cases upon contralateral exploration. The remaining 169 (85%) that did not demonstrate contralateral swelling or crepitus have been followed for an average of 4.7 years with only one subsequently demonstrating anon-communicatingcontralateral hydrocele.
Simple insufflation is sufficient to identify patients with a clinically significant contralateral patent processus vaginalis. Contralateral inguinal laparoscopy need not be performed.
---
17:15 - 17:20
T&T-3 (SOP)
MODIFIED LABIOPLASTY TO CONCEAL THE GLANS OF THE CLITORIS IN FEMINIZING GENITOPLASTY
Emilio MERLINI 1, R. DE CASTRO 2 and Serdar TEKGUL 3
1) Children's Hospital, Division of Pediatric Surgery, Section of Urology, Alessandria, ITALY - 2) Clinica Petrucciani, Section of Pediatric Urology, Lecce, ITALY - 3) Hacettepe University, Department of Urology Division of Pediatric Urology, Ankara, ITALY
ABSTRACT
Many aspects of Feminizing Genitoplasty have been criticized, which has led to a more conservative approach and to technical refinements in order to reduce complications and respect the glanular neurovascular bundle.
Despite progresses, the glans clitoris often remains quite prominent and unesthetic, causing dissatisfaction in the patients. We have modified our technique of labioplasty to try to avoid this problem.
After reduction clitoridoplasty, the skin covering the clitoris is split in the midline and used to create the labia minora. Next, an inverted "V" shaped incision is started at junction between the pubic and the clitoral skin and carried on for 1,5 -2 cm along the edges of the newly created labia minora. Margins are minimally dissected to avoid tension after closure. The "V" incision is sutured longitudinally in two layers in a "V"-I" fashion. This procedure results in a hood that covers and partially hides the glans of the clitoris. We have applied this procedure in two recent cases with immediate good results.
More cases and a long term follow up are required to evaluate the effectiveness of this procedure that is similar to a procedure described in 2017 by Wolfenbuttel et al.1
1) J Pediatr Urol 2017;13:61.e1
---
17:20 - 17:25
T&T-4 (SOP)
BILATERAL OBTURATOR OSTEOTOMY: A NEW TYPE OF OSTEOTOMY FOR BLADDER EXSTROPHY CLOSURE
Sebastien FARAJ 1, Cyrille DECANTE 2, Hortense ALLIOT 1, Nathaly GAVIRA 2, Antoine HAMEL 2 and Marc David LECLAIR 1
1) CHU Nantes, Pediatric Urology and Surgery, Nantes, FRANCE - 2) CHU Nantes, Pediatric orthopedic surgery, Nantes, FRANCE
PURPOSE
Abdominal and pelvic closure remains a challenge during bladder exstrophy initial repair. We aimed to report on the feasibility and results of a novel technique of bilateral obturator osteotomy.
MATERIAL AND METHODS
Retrospective study of children who underwent single-stage delayed bladder exstrophy closure combined with Radical soft-tissue mobilization by the same surgical team at different institutions between December 2017 and May 2021.
In all children in whom pubic approximation was not feasible at the end of the procedure, bilateral obturator osteotomy was performed through the same approach to allow tension-free abdominal closure, consisting in bilateral divisions of the ilio-pubic rami, ischiopubic rami, detachment of the internal obturator muscle, and division of the obturator membrane. The anterior pubic bone fragments hence mobilized were approximated together on the midline with absorbable sutures. Immobilization in a thermoformed posterior splint was indicated for 3 weeks.
The main outcome criterion was the bladder dehiscence rate at 3 and 6 months. Secondary outcome criteria included pedicle injury, wound or bone infections and groin pain.
RESULTS
Seventeen bladder exstrophy children (11 males, 6 females) were included, at a median age of 2 months [1-33] ; and representing 30% (17/58) of the children with bladder exstrophy who underwent the same surgical approach during the time of study.
Pubic bones fragments could be approximated with less than 10mm interval in all cases.
There was no postoperative bladder dehiscence with a median follow-up of 34 months [6-47]. No complication was observed. Pelvic X-rays showed bilateral normal ossification process. Neither gait abnormality, nor clinical indication of obturator nerve deficiency was observed during follow-up.
CONCLUSIONS
In case of impossibility of pubic bones approximation, bilateral obturator osteotomy is a useful adjunct in bladder exstrophy closure, feasible by the pediatric urologist through the same approach, and not requiring external fixator.
---
17:25 - 17:30
T&T-5 (SOP)
A NEW INTRA-VESICAL APPROACH TO SEPARATE THE RECTUM AND VAGINA FROM THE BLADDER IN CLOACAL CASES WITH COMMON CHANNELS >6 CM
Luis H. BRAGA
McMaster University - McMaster Children's Hospital, Department of Surgery / Urology, Hamilton, CANADA
PURPOSE
A 7-month old girl with a very high form of cloacal malformation (please see schematic drawing attached). According to the colostogram and genitogram she had a common channel greater than 6 cm in length. The rectum and 2 hemi-vaginas were connected to the posterior bladder wall above the trigone.
This is an extremely rare cloaca case that poses a challenge during the reconstruction, especifically how to separate the vaginas and rectum from the bladder base.
The classic teaching says that these very high cases of cloaca should be approached by a combined approach, laparotomy and prone with whole body prep. It also says that one should try to dissect the rectum and vagina from the bladder following an extra-vesical plane.
Our unique trick is that we are proposing a new intra-vesical approach to separate the rectum and vaginas and dissect the confluence, instead of coming from outside the bladder trying to find the confluence point, if one starts from inside the bladder (as one does for an intravesical - Cohen reimplantation), the separation of the structures becomes much easier, with less risk of denervating the bladder, decreasing the risk of urinary retention and development of neurogenic bladder postoperatively. This approach allowed us to identify all the structures safely and quickly without injury to any other structures, such as the ureters, which can run an ectopic course in these cases.
We kept the common channel as urethra and connected the 2 short hemi-vaginas in the midline to create a larger vaginal cavity which was anastomosed to the 6 cm piece of rectum (rectum vaginoplasty), as described by Pena. (schematic drawing attached).
Please see photos below: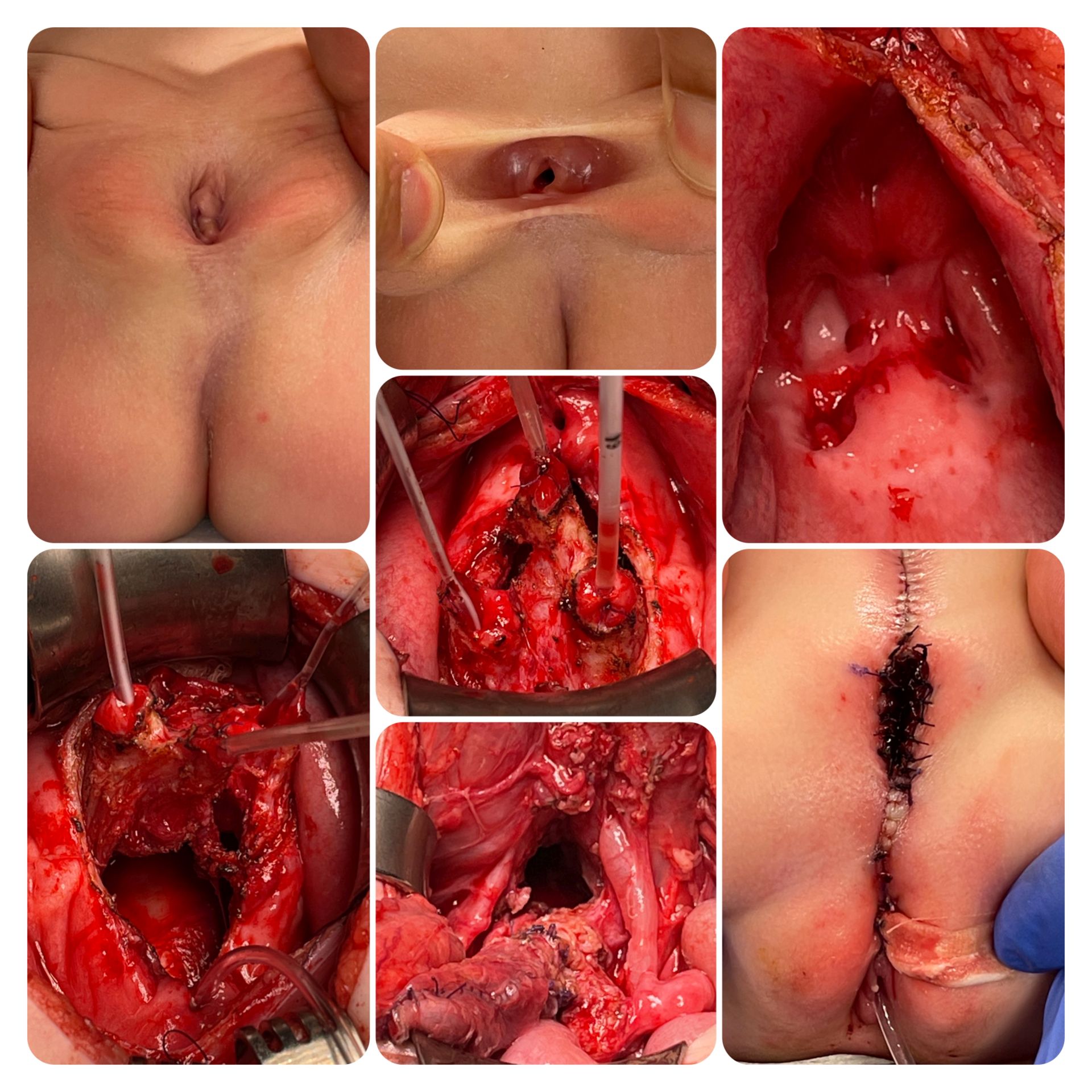 In the middle photo, the rectum has been catheterized and the 2 hemivaginas. The ureteral orifices were very small and displaced to the side.
---
17:30 - 17:35
T&T-6 (SOP)
TWO STAGE-RESCUE (DELAYED) VAGINOPLASTY FOR CLOACA IN ADOLESCENCE
Antonio MACEDO JR
Federal University of São Paulo, Pediatrics / Pediatric Urology, São-Paulo, BRAZIL
INTRODUCTION
Cloacal repair is a major challenge in reconstructive pediatric urology. The posterior sagittal approach (Peña repair) is a well established procedure and allows restoration of urinary and bowel function. There is not a consensus about the best time to address the vaginoplasty issue in cloacas. For cases with non resolved vaginal function or previously planned strategy to reconstruct the vagina at adolescence, we want to describe in detail our two-stage vaginoplasty approach: autologous buccal mucosa vaginoplasty (BMV), followed by laparoscopic anastomosis of native incipient vagina to the BMV in a second procedure with an interval of 3 months.
METHODS
A 11 year old female with cloaca underwent at the age of 11 months a Peña repair. After the beginning of her periods, we proposed vaginal reconstruction. We harvested the buccal mucosa graft from the lower lip and a second graft from the cheek. Both grafts were submitted to small sections to produce a mesh graft and increase its size. A transverse incision cranial to the anal canal and caudal to the urethra was performed and with electrocautery, consecutive dissection was promoted to gain profundity. The mesh-graft was placed over the neovaginal cavity and sutured with 4.0 PDS monofilament suture used to suture and then quilt the graft in place. The vaginal capacity was confirmed by ease of a two-digit insertion. The patient remained with an indwelling urinary catheter. The mold and Foley tube were removed after 14 days postoperatively. After three months we performed a laparoscopic end to end anastomosis of native to the reconstructed vagina.
RESULTS
Patient had an excellent outcome and her menstruation is normal. She continues to perform vaginal dilatation with molds.
CONCLUSIONS
The two stage-rescue (delayed) vaginoplasty for cloaca in adolescence is a logical strategy to assess this complex problem associated with cloaca because it allows realistic evaluation of postoperative results in regards to menstruation and vaginal capacity enabling sexual intercourse initiation.
---
17:35 - 17:55
Discussion