33rd ESPU Congress in Lisbon, Portugal
MWC: MY WORST COMPLICATION
Moderators: Emilio Merlini (Italy)
ESPU Meeting on Friday 21, April 2023, 11:25 - 12:05
---
11:25 - 11:30
MWC-1 (SOP)
A RENAL ARTERY PSEUDO ANEURYSM AFTER TRUCUT BIOPSY FOR SURRENAL NEUROBLASTOMA: A CHALLENGING POSSIBILITY FOR PEDIATRIC UROLOGY TEAM
Rahşan ÖZCAN and Haluk EMIR
Istanbul University-Cerrahpasa, Cerrahpasa Medical Faculty, Deptartment of Pediatric Surgery, Division of Pediatric Urology, Istanbul, TURKEY
ABSTRACT
A 5 years old girl was admitted to the hospital with enuresis nocturna, and a right suprarenal solid mass was diagnosed. A 40x19x21mm diffusion-restricting solid mass was located in the right adrenal, without clear boundaries from the right kidney, which is thought to invade the right kidney parenchyma and surround the renal vessels. NSE level was 59.8 (high), and VMA was 8.79 mg/gr creatinine (normal). The first trucut biopsy was diagnosed with "neuroblastoma." The patient was referred to our center with a history of post-biopsy hematuria spontaneously regressed in 2-3 days.
Since prognostic markers (N-myc, 11q23 loss, and DNA ploidy index) were not studied in the previous biopsy, it was decided to take a new biopsy and study from fresh tissue. Following the trucut biopsy procedure in our center, the patient developed macroscopic hematuria. USG showed mild dilatation and hematoma on the right kidney. A Foley catheter was inserted. The hemodynamically stable patient was followed conservatively. Hematuria regressed spontaneously, and the patient was discharged three days after.
On the seventh day of the biopsy, the child was admitted to the emergency room with complaints of fever, abdominal pain, and hematuria. Since the aneurysm, AV fistula was not detected on USG, hematoma and hematuria were followed up in the pediatric oncology service with Foley catheter drainage. However, on the 10th day of the biopsy, the patient developed hemodynamic instability and severe macroscopic hematuria with clothes in urine. Doppler USG examination showed an 11 mm perirenal hematoma, and a possible AV fistula is observed where the flow is monitored at a speed of 250 cm/s. Emergency contrast-enhanced CT showed an image consistent with a pseudoaneurysm in the right kidney's anteroinferior. (picture 1 a,b red circles). The operating room was prepared for possible surgical exploration due to hemodynamic instability. The interventional radiology team successfully performed Angioembolization for the pseudoaneurysm. (Picture 2 a,b,c, red arrows). There were no complications during or after the procedure.

DISCUSSION
Neuroblastoma is one of the most common abdominal/retroperitoneal solid tumors in children. Both radiological (IDRF) and pathological biomarkers are essential for treatment planning and prognosis. Trucut biopsy is a minimally invasive method for fresh sampling tissue, but it can have complex early/late complications such as pseudoaneurysm/AV fistula. Although Doppler USG is helpful in the diagnosis, contrast-enhanced CT examination provides a better definition of the lesion. If there is hemodynamic instability, as in the case presented, emergency diagnosis and treatment are essential. Although interventional radiological procedures and embolization are usually the first choices, the pediatric urology/surgical team should be prepared for possible emergency exploration.
---
11:30 - 11:35
MWC-2 (SOP)
DELAYED CLOSURE OF BLADDER EXSTROPHY: FUNGUS BALLS AND NEPHRECTOMY AS A PUNISHMENT FOR DISREGARDED DIAPER DERMATITIS
Pauline CLERMIDI 1 and Marc-David LECLAIR 2
1) Hôpital d'enfants Armand Trousseau, Chirurgie Pédiatrique Viscérale et Néonatale, Paris, FRANCE - 2) Hôpital Mère-Enfant, Chirurgie Infantile, Nantes, FRANCE
ABSTRACT
A girl born with classic bladder exstrophy was scheduled for delayed surgical reconstruction at 3 months of age, according to the Nantes combined bladder closure with Kelly radical soft-tissue mobilization.
Under general anesthesia, with epidural catheter already in place, one discovered an inflammatory skin rash like a diaper dermatitis, suggestive of skin candidosis.
Swab samples of skin were taken for bacteriology and mycology analysis, and the procedure was performed as scheduled. Post-operative drainage was provided by two ureteral stents (Mono-J 6Fr), one supra-pubic catheter, plus one urethral stent clamped.
Despite early identification ofCandida albicansskin infection and adequate systemic treatment (fluconazole), the child developed a postoperative septic shock, with urine and hemocultures positive withC. albicans. At day 7 postoperative, appearance of bilateral echogenic debris in the renal calyceal systems prompted additional intra-cavitary treatment with amphotericin-B, with the suspicion of renal "fungus balls".
Candiduria remained positive for 2 months, and persistent images of fungus balls could be seen in the left renal pelvis and calyces 3 months after surgery, requiring systemic anti-fungal treatment (fluconazole, oral) for a total duration of 4 months.
She underwent a Mag-3-renal scan 6 months after surgery, which showed complete loss of function of the left kidney. She eventually underwent left nephrectomy before the age of one-year. Imaging studies and pathology analyses still showed evidence of fungal debris in the collecting system.
Adequate prevention, screening, and treatment of cutaneous candidosis is critical in infants undergoing major urological reconstruction, especially when plastic foreign materials (catheters and stent) are to be left in place for a prolonged period. The strategy of delayed closure of bladder exstrophy likely increases this risk due to prolonged maceration of the skin in the diapers.
Fungus balls is a rare but severe complication of candiduria.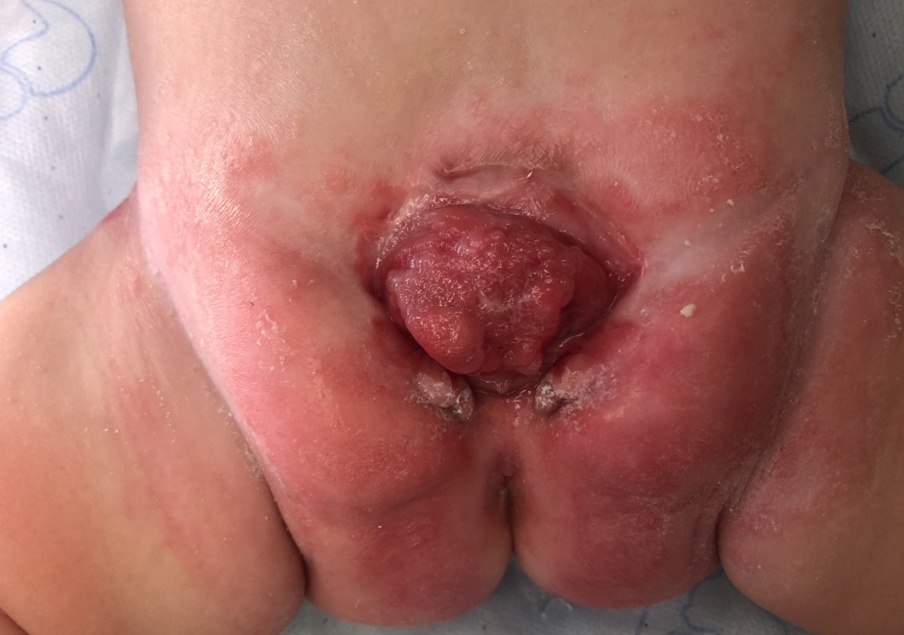 ---
11:35 - 11:40
MWC-3 (SOP)
WHEN A RETROPERITONEOSCOPIC PARTIAL NEPHRECTOMY ACTED AS OPENING THE PANDORA'S BOX
Alfredo BERRETTINI
Fondazione IRCCS Cà Granda Ospedale Maggiore Policlinico, Paediatric Urology Unit, Milan, ITALY
ABSTRACT
A 1-month-old girl was referred to our department because of bilateral duplex kidneys complicated by bilateral dysplastic non-functioning upper moieties associated with ipsilateral ureteroceles (32 mm L, 18 mm R). Due to recurrent UTIs and persistent left hydroureteronephrosis despite multiple endoscopic punctures, a retroperitoneoscopic upper pole partial nephrectomy was required at 10 months of age.
The upper moiety was sectioned as proximally to the bladder as possible by using laparoscopic sealer and removed through the middle access; an indwelling perirenal 10 Ch drain was left. In the immediate postoperative period, the patient developed necrotizing fascitis involving the operated area, complicated by severe sepsis and septic shock (P. Aeruginosa e K. Aerogenes). Following adequate patient stabilization and sepsis resuscitation treatments, extensive debridement of the affected area was performed, and a vacuum-assisted closure system was applied to optimize wound healing. An autologous split-thickness skin graft harvested from the upper thigh and buttocks was then used to cover the skin defect. Patient was discharged home and followed up in the dressing clinic until complete wound healing and functional recovery. This case illustrates a life-threatening complication of minimally invasive urological procedures, successfully treated thanks to the effective interdisciplinary collaboration between medical and surgical healthcare professionals.
---
11:40 - 11:45
MWC-4 (SOP)
VESICOSTOMY FOR URETEROCELE: A HUMBLE EXPERIENCE
Sajid SULTAN
Sindh Institute of Urology and Transplantation (SIUT), Philip G. Ransley Department of Paediatric Urology, Karachi, PAKISTAN
BACKGROUND
Vesicostomy may divert bladder outlet obstructions (BOO) and relieve its sequela and symptoms but this may not be the case with an ectopic ureterocele.
CASE REPORT
We present the case of an 18 month old boy who presented with severe straining and crying during urination, febrile episodes secondary to UTIs and RTIs and history of delayed milestones (mentally challenged).
The left kidney was simplex non hydronephrotic with good functioning. The right was a complete duplex, both moieties mildly hydronephrotic, reduced functioning, tortuous dilated ureters and large ectopic ureterocele at the lower end of the upper moeity, both moieties refluxing.
Cystoscopy revealed a large ectopic ureteocele protruding into the bladder neck and posterior urethra with multiple holes in the ureterocele perhaps secondary to previous surgical intervention outside.
Considering limitations, we performed a Blocksom vesicostomy. A Few days later, he presented with the same symptoms with extensive prolapse of urinary bladder through the vesicostomy (pictures attached). Suspecting a technical error, a redo vesicostomy met with the same fate and no relief of symptoms, hence it was closed and left with the suprapubic drainage tube.
After optimizing the patient especially his RTI, we then performed a right nephrouretectomy , excision of ureterocele and bladder repair with trigonoplasty. Patient is now symptom free and voiding well. Ectopic ureterocele protruding into the urethra caused symptoms which only got relieved once ureterocele was removed.
---
11:45 - 12:05
Discussion