5th Joint Meeting of ESPU-SPU - Virtual
MWC: MY WORST COMPLICATION
Moderators: Ram Subramaniam (UK)
ESPU-SPU Meeting on Saturday 25, September 2021, 11:45 - 12:21
---
11:45 - 11:48
MWC-1 (SO)
RECURRENT UNILATERAL SCROTAL INFECTION IN A 19 MONTHS OLD BOY AFTER STAGED HYPOSPADIAS REPAIR
Katja WOLFFENBUTTEL
Erasmus MC - Sophia Children's Hospital, Paediatric Urology, Rotterdam, NETHERLANDS
ABSTRACT
A full-term neonate with prenatal atypical genitalia was referred to our multidisciplinary DSD center. Postnatal diagnosis was scrotal hypospadias with bifid scrotum containing testes. Karyotyping is 46,XY; steroid hormones and Sertolicell markers were within the normal male range. DNA analysis (WES-DSD-panel) showed an UV (unclassified variant) in GATA4 gene: c.857C>T, p.(Ala286Val).
He underwent a two-staged hypospadias repair at the age of 10 and 17 months, respectively. Cystoscopy prior to stage 2 showed an enlarged utricle with a rudimentary cervix.
Three weeks postop he presented with a red and painful left scrotum with a positive urine culture (E. coli) treated with oral AB (fluoroquinolone). He recovered quickly and completely. Urine culture was positive (E. coli >10e5).
Eight weeks postop, in the middle of the 1st Covid-19 pandemic wave, parents discovered a swelling in the left hemiscrotum, with leakage of urine from the urethral meatus when touched, diagnosed as a urethral diverticulum. Eleven weeks postop he developed a red, painful left hemiscrotum with subfebrile temperature. Ultrasound showed a thickened scrotal wall and left spermatic cord next to the urethral diverticulum. with Urine culture was negative. He was treated with antibiotics on suspicion of a UTI complicated by an epididymitis due to a urethral diverticulum. Urine culture was negative.
Three months after the 2nd hypospadias repair he underwent operative correction of the urethral diverticulum. Remarkable was that there was no meatal stenosis. Postop cystography showed no opacification of the enlarged utricle. However, 4 weeks after diverticulum repair he had a recurrent left scrotal inflammation, on US interpreted as an infected scrotal hematoma. He was treated with AB and scheduled for reoperation.
Four months after the 2nd hypospadias correction cystoscopy, laparoscopy and left inguinal exploration were performed. As for the latter, the local anatomy was completely unrecognizable, necessitating orchidectomy. Pathology showed a dysgenetic testis and epididymis surrounded by connective tissue and cystic structures, probably Müllerian remnants. it is remarkable that the chronic inflammation is mainly located around these cystic structures. During 3 months follow-up he remained asymptomatic. Parents consented to excise the internal Müllerian structures in case of future recurrences.
Why sharing this complex with colleagues? This case teaches us some of the many diagnostic problems we sometimes encounter in children with DSD.
Scrotal inflammation can be difficult to distinguish from a urethral diverticulum.
A urethral diverticulum can arise in the absence of a meatal stenosis.
A patient with proximal hypospadias and bilateral testes in the scrotum may still have a DSD.
A fully descended testis can be dysgenetic gonad.
It appears that the GATA4 UV is pathogenic (mutation) in this case, despite normal serum hormone levels.
Although the cause of inflammation of the left gonad remains unclear, the abnormal anatomy of the urethra (diverticulum, utricle) has probably contributed to the recurrent inflammation.
---
11:48 - 11:51
MWC-2 (SO)
RECONSTRUCTION OF THE MALE URETHRA, FOLLOWING ACCIDENTAL RESECTION OF THE URETHRA DURING A POSTERIOR SAGITTAL ANORECTOPLASTY
Marios MARCOU, B. WULLICH and K. HIRSCH
University Hospital Erlangen, Clinic of Urology and Pediatric Urology, Erlangen, GERMANY
INTRODUCTION
Posterior sagittal anorectoplasty (PSARP) is the gold standard for cases of rectourethral fistula and imperforate anus. Injury to the urethra has been described as one of the most common complications.
CASE-REPORT
We report the case of an eight-month-old boy with a congenital rectourethral fistula and imperforate anus that underwent PSARP in the department of pediatric surgery in our hospital. The procedure was conducted without the placement of a urethral catheter in the bladder. Following the surgery, continuous drainage of urine via the intra-abdominal drain was observed. The attempt to place a urethral catheter in the bladder was unsuccessful and cystoscopy revealed occlusion of the bulbar urethra. Repeated sonography showed an empty bladder, making the placement of a suprapubic catheter impossible, so that emergency vesicostomy was performed. Cystography revealed leakage through a lesion of the bulbar urethra. During re-operation an iatrogenic defect of the bulbar urethra of approximately 1 cm was detected. A tension-free end-to-end anastomosis of the urethra was only possible on the ventral circumference of the urethra. The dorsal defect was overbridged by using the remaining stump of the rectourethral fistula. The anastomosis was covered with a pedicle flap of tunica vaginalis harvested from the scrotum and pulled through the pelvic floor. A control-cystoscopy and a urethrography were performed eight-weeks after, showing no sign of leakage or stenosis.
CONCLUSIONS
The correct placement of a urethral catheter in the bladder is obligatory in PSARP and is the best way to avoid injury to the urethra.
---
11:51 - 11:54
MWC-3 (SO)
RESOLVING GLANDULAR VENOUS CONGESTION POST HYPOSPADIAS WITH LEECH THERAPY
Yuding WANG, Pepe SALLE and Luis BRAGA
McMaster University - McMaster Children's Hospital, Department of Surgery / Urology, Hamilton, CANADA
PURPOSE
A two and half year-old boy was taken to the operating room for second stage hypospadias repair 8-months following his first stage hypospadias repair with preputial graft for proximal hypospadias with severe ventral cordee. Graft was supple and initial dissection was uneventful. Intraoperative erection testing demonstrated a distal cordee <30 degrees. A small dorsal plication (DP) was completed using 5-0 PDS along the midline under the neurovascular bundle (NVB). The single DP stich was placed under the intact NVB so as to cause minimal disruption from dissecting the bundle along the midline. The graft was tubularized over an 8-Fr feeding tube with running 7-0 PDS, and additional layer of spongiosum was closed over the neourethra using interrupted 7-0 PDS. A tunica vaginas flap was developed and used as additional covering. Glans was closed in two layers, first a subcutaneous layer was closed using 6-0 PDS, and second the glans skin was closed using interrupted 7-0 PDS. The skin was closed along midline in two layers with the subcutaneous layer closed using 6-0 PDS and the skin proper closed using 7-0 PDS in an interrupted fashion.
Immediately postoperatively venous congestion was noted. Puncture with fine needle demonstrated dark venous blood. A decision was made to take the patient back to the operating room to examine under anesthesia, and release constricting sutures to improve venous drainage. During take-back, no definitive constricting sutures were found. NVB was intact and healthy. However, small clots were found under the glans which confirmed the diagnosis of venous congestion. With diagnosis confirmed, leech therapy was started intraoperatively, and improvement was observed to the quality and color of the glans. Improvement persisted, and venous congestion resolved. Patient was admitted for observation and discharged on post-operative day two.
FIGURES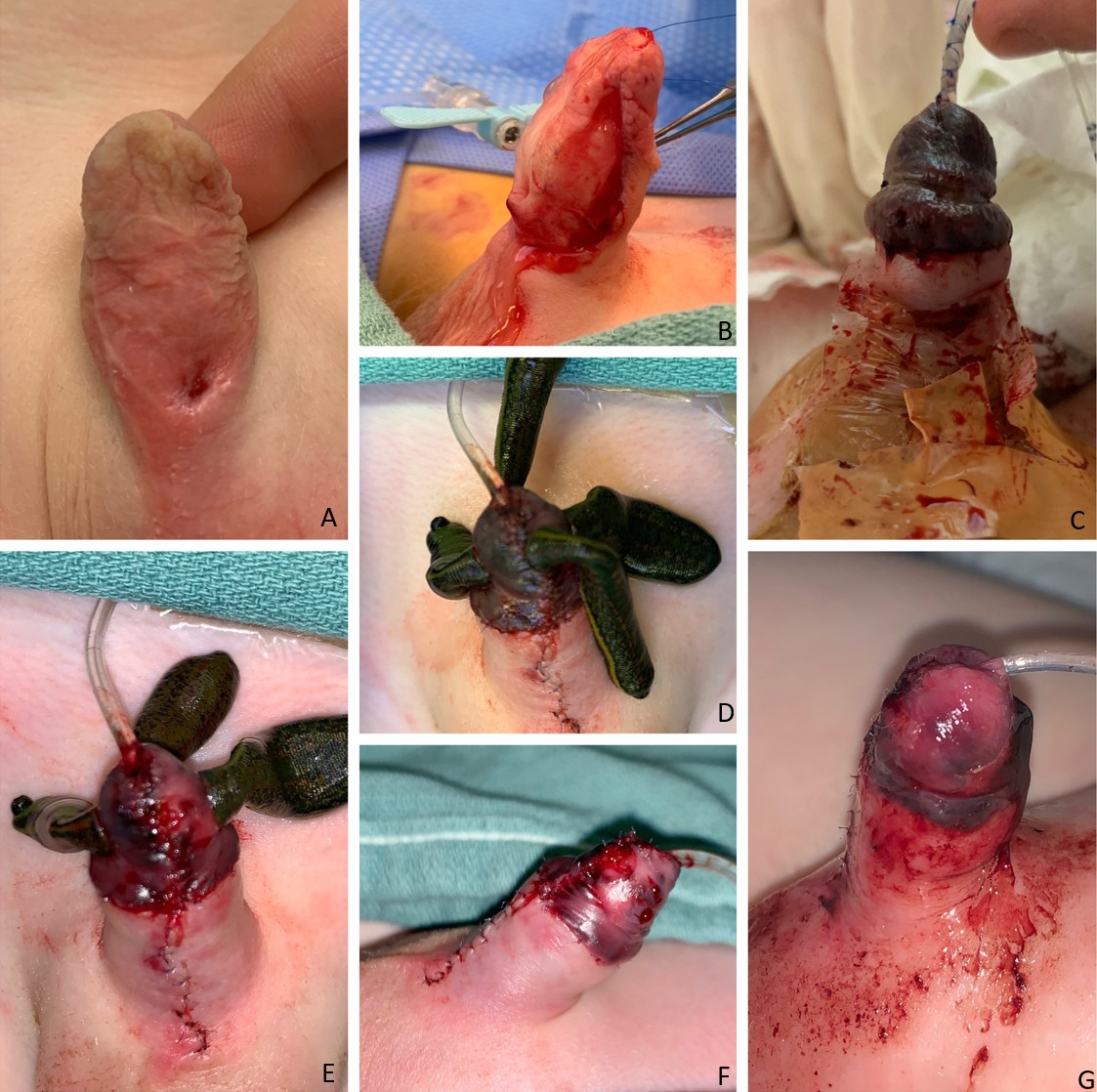 A) Initial preoperative penis demonstrating graft take. B) Intraoperative erection test to demonstrate distal cordee with simulated correction by dorsal plication by forceps. C) Postoperative assessment of penis with signs of venous congestion with darkened glans penis. D) Intraoperative picture of leeches applied to the glans to relieve venous congestion. E) Leeches engorged and releasing post "feeding" with interval improvement of the venous congestion to the glans. F) Immediate post leech therapy with improvement of venous congestion to the glans. G) Post-operative day one glans shows continued improvement and resolution of venous congestion.
---
11:54 - 11:57
MWC-4 (SO)
URETERIC TRAUMA DURING MINI PCNL
Bashir AHMED
Sindh Institute of Urology & transplantation, Philip G. Ransley Department of Paediatric Urology, Karachi, PAKISTAN
PURPOSE
Ureteric trauma during PCNL is a possibility. A delay in a diagnosis and inappropriate treatment are the contributing factors for increased morbidity of ureteric injury. Timely recognition and proper management can salvage the kidney and further complications.
METHODS
A case of two-year-old boy with bilateral renal stones and forgotten encrusted JJstent. Under general anaesthesia, encrusted lower end of right JJstent removed from the bladder. Retrograde uretero-pyelogram revealed dilated irregular ureter, encrusted upper end of JJstent and renal stones. In prone position Mini PCNL was performed with 14 Fr. Amplatz sheath and 12 Fr. Nephroscope from posterior superior calyx. During procedure few fragmented stones migrated into the proximal ureter. Nephroscope negotiated into the proximal ureter and fragments removed by grasping forceps. During nephroscope retrieval complete ureteric transection at the level of pelviureteric junction was observed.
RESULTS
The plan was made for immediate exploration. Uretero-pelvic anastomosis with JJ stenting was done. Stent removal and ureterorenoscopy was performed after three weeks which revealed patent PUJ.
CONCLUSION
Negotiation of small size nephroscope through even dilated PUJ is not without risk. Immediate recognition and proper management gives good results and prevent further complications.
---
11:57 - 12:00
MWC-5 (SO)
AORTIC INJURY DURING UMBILICAL PORT PLACEMENT FOR IMPALPABLE TESTIS - MANAGEMENT AND OUTCOME
Venkat SRIPATHI, Deepak RAGHAVAN, Rajiv PADANKATTI and Vidhya TAMILVANAN
Apollo Children's Hospital, Department of Pediatric Urology, Chennai, INDIA
ABSTRACT
A two-year old child was taken up for laparoscopy for an impalpable testis. A bladed trocar was inserted in the upper margin of the umbilicus. As the skin was wet, upward traction (on abdomen) was momentarily lost and the trocar plunged in sharply. Shortly thereafter the anesthestist reported that blood pressures were dropping rapidly and the pulse oximeter on the leg was not recording. The abdomen was rapidly opened and pressure applied in the midline till a blood transfusion could be started and a vascular surgeon could be summoned. Thirty minutes later the vascular surgeon arrived and identified a through and through stellate stab wound in the infra-renal segment of the aorta just below the inferior mesenteric artery. After cross clamping this was repaired and flow restored to the pelvis and legs. A stab injury to the small bowel was identified and repaired. Post operatively the child made a complete recovery and returned four years later to complete the laparoscopic repair of the undescended testis. This case is presented to highlight the danger of blind insertion of a bladed trocar (especially at the umbilicus) and to highlight the value of teamwork in salvaging a major vascular catastrophe.
---
12:00 - 12:03
MWC-6 (SO)
FATAL FECAL IMPACTION
Yazan F. RAWASHDEH
Aarhus University Hospital, Paediatric Urology, Aarhus, DENMARK
CASE
Female pediatric patient born with a cloacal anomaly and agenesis of right kidney. She was managed neonatally (elsewhere) with a colostomy and later in infancy with PSARP, and an ileal neovagina. Initially presented to our Department at the age of 7 years due to urinary and fecal incontinence. Urological work-up showed an irregular urethra, retracted vaginal opening, left sided grade III reflux, open bladder neck and dysfunctional voiding. MRI showed tethering of the cord but neurosurgical review deemed detethering unnecessary. Initially, managed conservatively, but due to worsening urodynamics and incontinence management with anticholinergics and a Mitrofanoff / MACE channel was suggested to and declined by the family. Urinary incontinence and constipation worsened progressively, hence bowel management with laxatives was intensified. After a long absence the patient re-presented with abdominal pains, urinary tract infection and signs of chronic renal failure 13 years old. Ultrasound showed a dilated left kidney and ureter and creatinine was 305 μmol/L. Following transurethral catheter diversion and institution of anticholinergic therapy there was a slight improvement. However due to a Cr EDTA clearance of 15 % and a weight and hight 4 SD below normal she was put on the renal transplant list and reconstruction of lower urinary tract was planned. At the age of 14 years a laparotomy with an intention to perform ileocystoplasty and continent urinary diversion was performed. Peropertaive findings of a fecally impacted dilated colon from the cecum to the rectum rendered continuation of the procedure too risky. The left ureter was seen to be compressed by the dilated sigmoid colon, so an open insertion of JJ stent through the bladder was performed and reconstruction was aborted with the intention to return after bowel management was complete. Postoperative course was initially smooth, with minimal pain and slowly decreasing serum creatinine, so laxative management was initiated on third postoperative day. The patient started complaining of abdominal pain the following day's evening. The pain waxed and waned but ultimately intensified on fifth postoperative day where after she started vomiting and clinically was found to have signs and symptoms of peritonitis. An emergency CT scan was performed which showed a severely dilated fecally impacted colon (figure 1) with a diameter of 9 cm. This was rapidly followed by loss of consciousness and convulsions. The patient was crash intubated and transferred to the ICU and emergently taken to theatre where colonoscopic desufflation was attempted unsuccessfully. On subsequent urgent laparotomy a necrotic dilated colon (figure 2) was encountered and total colectomy was performed. Second -look procedure on the following day was undertaken revealing small bowel, rectal and duodenal necrosis. Necrotic bowel was resected but unfortunately the patient subsequently developed disseminated intravascular coagulopathy, multiorgan failure and deceased later that day.
CONCLUSIONS
constipation in patients with neuropathic bowel needs to be taken seriously and managed adequately. Toxic megacolon in pediatric patients with neuropathic bowel is an ominous development that can be fatal.
FIGURES
---
12:03 - 12:21
Discussion