5th Joint Meeting of ESPU-SPU - Virtual
T&T: TIPS & TRICKS
Moderators: Serdar Tekgül (Turkey)
ESPU-SPU Meeting on Friday 24, September 2021, 14:30 - 15:05
---
14:30 - 14:33
T&T-1 (TTP)
THE SINGLE U-STITCH APPENDICOVESICOSTOMY ANASTOMOSIS
Tiago ROSITO
Hospital Clínicas Porto Alegre - Universidade Federal do Rio, Urology, Porto Alegre, BRAZIL
ABSTRACT
Laparoscopy Mitrofanoff is one extremely complex surgery with a long learning curve. The main difficulty in this procedure is the suture line between the appendix and the bladder wall.Making suture in the pelvis with traditional non articulated laparoscopic instruments is demanding. Using a single U- Stitch fashioned suture on the anterior bladder wall as proposed by Weller et al we can create a long intravesical tunnel with continence rates as high as traditional methods and with a remarkably short time. An incision is made on the anterior bladder wall, a single vicryl 4.0 suture is made in a U Shanfield fashion throughout the incision leaving the wall two centimeters deep creating an intravesical tunnel long enough to create good results without necessity of a huge reconstructive laparoscopic experience.
---
14:33 - 14:36
T&T-2 (TTP)
ENSURING THAT THE APENDIX HAS AN ADEQUATE LUMEN DURING A ROBOTIC MITROFANOFF-VALUABLE LESSON LEARNT
Venkat SRIPATHI
Apollo Children's Hospital, Department of Pediatric Urology, Chennai, INDIA
ABSTRACT
This video demonstrates how a densely stenosed lumen came as a surprise halfway into a robotic mitrofanoff procedure and the strategy we employed to overcome this problem. A thirteen year old male post Acute Myeloid Leukemia treatment presented with overflow incontinence due to a poorly contractile detrusor. As he was averse to penile catheter drainage, a robotic appendix mitrofanoff procedure was advised. An appendix of 7 cms length was isolated and freed but during anastomosis to the bladder, the distal half of the lumen was found to be severely stenosed and 3 cms had to be discarded. To enable the remaining 4 cms to reach the abdominal wall, the superior vesical pedicle on the left side of the bladder was divided. This enabled a shift of the bladder dome to the right. Following appendicular anastomosis a flap of peritoneum was wrapped and anchored to the abdominal wall to prevent retraction. Three and a half years later the child is using an 8 French Feeding and is catheterizing with ease. Ligating the superior vesical pedicle on the opposite side enabled bladder mobility and salvage of a short appendix during a Mitrofanoff procedure. The video shows how we achieved this
---
14:36 - 14:39
T&T-3 (TTP)
ROBOT ASSISTED LAPAROSCOPIC - CONTINENT CUTANEOUS CATHETERIZABLE CHANNELS IN PEDIATRIC PATIENTS: TECHNICAL TIPS TO PREVENT COMPLICATIONS
Mohan S. GUNDETI
University of Chicago Medicine & Biological Sciences, Paediatric Urology, Chicago, USA
INTRODUCTION
Continent catheterizable channels (CCCs) are effective alternatives to intermittent self-catheterization and enema administration for neurogenic bladder and bowel management. In recent years with widespread applications of minimal invasive surgery, robotic assistance has been used to perform these procedures. We reviewed our experience with this over last decade in 35 patients and describe some of the technical steps for preventing common complications.
TECHNICAL TIPS
1 If patient has previous VP shunt placement – Laparoscopy first for identification and mobilization of the appendix as these patients have extensive intrabdominal scarring and often the appendix is in difficult location or poor mesenteric blood supply
2 Keep Mesentery to appendix intact with the peritoneum and mobilize as necessary
3 Keep and take part of cecum along with appendix for prevention of stomal stenosis and allows to augment the length by few cm.
4 For dual channel with inadequate length of the appendix, cecum anterior wall tube created for the ACE channel
4 During the Appendix maturation to bladder, first place the anchoring suture at tip of the appendix through full thickness to bladder and then spatulate, this will take away the tension on anastomosis.
5 The detrusor flaps can be closed over the appendix without fenestration of the appendix mesentery
6 No need of tacking the appendix to abdominal wall or bladder
CONCLUSION
Adopting these salient features in our practice the stomal continence was 91% and subfacial stenosis of 2.9 % in total.
---
14:39 - 14:42
T&T-4 (TTP)
SIMPLE TIPS AND TRICKS ON PCLN TO CONVERT THE PUNCTURE SITE INTO A MORE CONVENIENT POSITION
Sajid SULTAN, Bashir AHMED, Sadaf ABA UMER KODAVWALA, Anwar NAQVI and Adeeb Ul Hasan RIZVI
Sindh Institute of Urology & Transplantation, Philip G. Ransley Department Of Paediatric Urology, Karachi, PAKISTAN
BACKGROUND
PCNL is one of the foremost surgical option for renal calculi management in children. Prone position, sub costal and atraumatic posterior superior calyx puncture through the fornix is one of the preferred site. Often, the appropriate puncture site is hidden behind the twelfth rib. We recommend some simple tips and tricks to convert the puncture site into a more convenient position
METHOD
Under General Anesthesia, patient is placed in prone position. The initial needle prick is made into the renal parenchyma near the upper pole. The pediatric kidney is mobile therefore, by angling the kellet/puncture needle, one can push the kidney inferiorly thus bringing the upper pole below the twelfth rib and an appropriate atraumatic puncture can easily be performed with a second needle.
---
14:42 - 14:45
T&T-5 (TTP)
CLITOROPLASTY WITHOUT THE NEED TO DISSECT THE DNVB, THROUGH A VENTRAL CORPOROPLASTY AND EXCISION OF THE CAVERNOUS TISSUE
Ubirajara BARROSO JR.
Federal University of Bahia, Urology, Salvador, BRAZIL
ABSTRACT
Clitoroplasty can be performed by several techniques. In all of them, the basic principles are: To preserve the dorsal neurovascular bundle (DNVB) responsible for clitoral innervation and to partially excise the corpora cavernosa.
We will show in photos and videos how to perform the clitoroplasty without the need to dissect the DNVB, through a ventral corporoplasty and excision of the cavernous tissue. The aim of this technique is to preserve the clitoral erection in a simplified way. We will also show how to embed the glans preserving gland tissue and how to mobilize the urogenital sinus en-bloc in a perineal approach.
---
14:45 - 14:48
T&T-6 (TTP)
CORRECTION OF CONGENITAL PREPUTIAL PENILE LYMPHEDEMA
Gianantonio MANZONI
Ospedale Maggiore Policlinico, U.O. Urologia Pediatrica, Milan, ITALY
ABSTRACT
Congenital genital lymphoedema is an extremely rare condition which poses some technical challenges for its correction. The condition is caused by the congenital absence of the superficial lymphatics which results in the classical appearance of the penile and prepucial skin.
A trick is presented in order to facilitate drainage from the skin via the deep lymphatics and to reduce the potential risk of recurrence. After a circumferential coronal incision complete degloving is performed to expose the shaft. Two parallel, longitudinal, para-urethral incisions are made in Buck's fascia which is progressively dissected, laterally and dorsally, from the tunica albuginea of the corpora thereby exposing the deep lymphatics. Once the dissection is completed the two "flaps" are sutured together in the midline above the neuro-vascular bundles. The excess pathological penile and prepucial skin and subcutaneous tissue are excised and a radical circumcision is completed. An adequate compressive dressing is applied.
This procedure provides for exposure of the subcutaneous tissue to the deep lymphatics in order to reduce the risk of recurrence.
---
14:48 - 14:51
T&T-7 (TTP)
PENILE DISSECTION UNDER ARTIFICIAL ERECTION (AE) DURING HYPOSPADIAS REPAIR
Haluk EMIR
Istanbul University-Cerrahpasa, Cerrahpasa Medical Faculty, Deptartment of Pediatric Surgery, Division of Pediatric Urology, Istanbul, TURKEY
ABSTRACT
Gentel hypospadias surgery needs to follow a correct dissection plane between main tissues, corporeal bodies and spongious tissues of urethra and glans penis. Bleeding and/or oozing blood may change surgical vision and orientation which usually results in loss of the correct dissection plane. Penile tourniquet (PT) is a very well known maneuver to stop bleeding but it makes all spongious tissues empty , including lateral urethral spongious tissues distal to hypospadiac meatus, and therefore definition of dissection plane may become even harder in some cases. Artificial Erection (AE) is a very helpful and tricky maneuver at this point. During AE, all erectile tissues are filled with saline and become visible so it is easy to define the correct dissection plane and progress (fig 1,2). Even spongious tissue penetration happens during dissection, surgical vision will not be effected because of saline leakage. Multiple ventral corporeal incisions for ventral chordee correction can also be done during AE (fig 3). Because penis is already erected and curved, the effectiveness of incisions can be evaluated without repeated tourniquets and AE tests. PT time usually is between 15-20 minutes and rest of operation is completed without PT fig4).
Penile surgery under Artificial Erection is an option which leads to a bloodless surgical field and visible dissection plane between saline filled erectile tissues and avoids repeated tourniquet / artificial erection.
FIGURES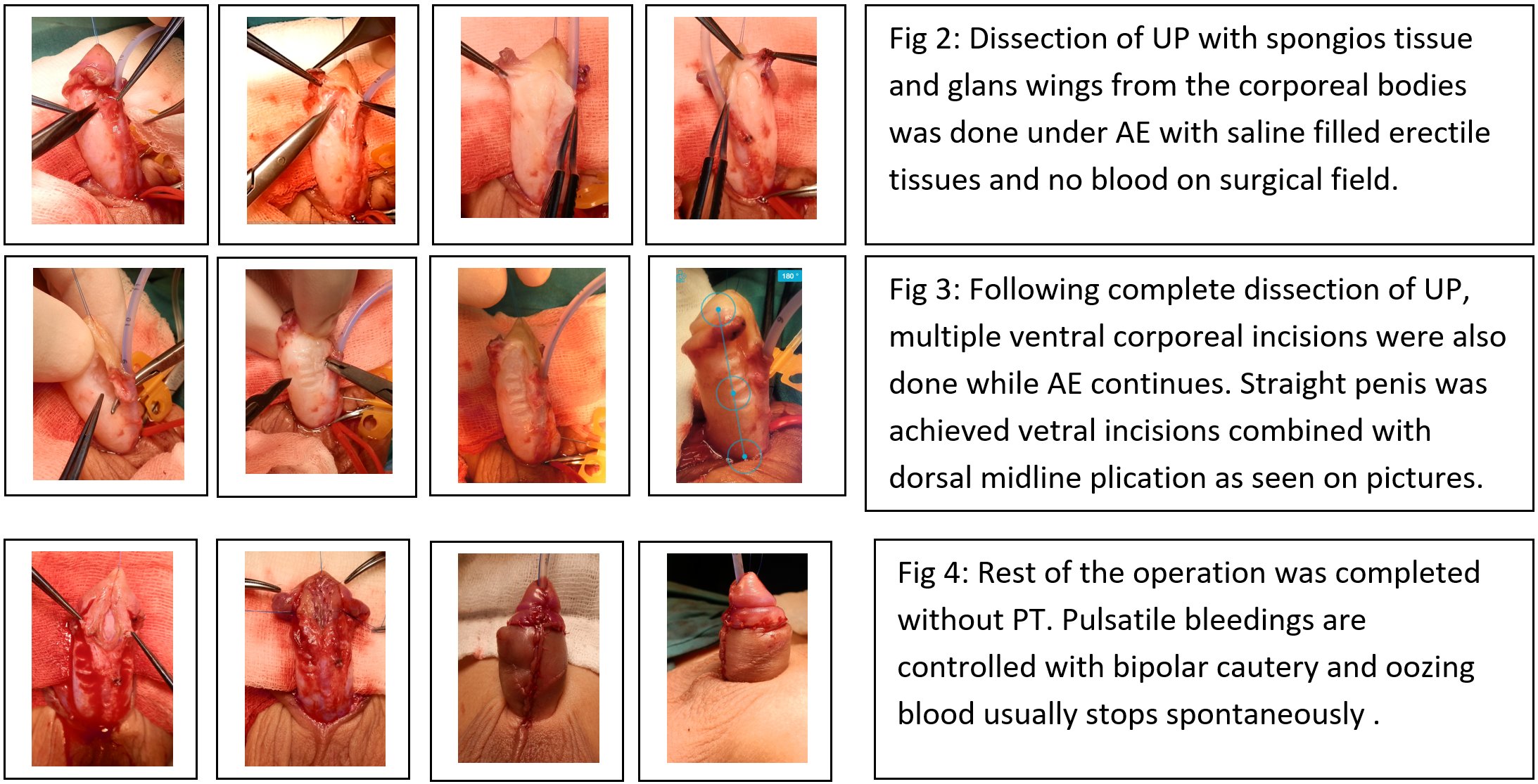 ---
14:51 - 15:05
Discussion