XVIIth ESPU Educational Course
From Friday 21 June 2019 - 07:00
To Saturday 22 June 2019 - 13:30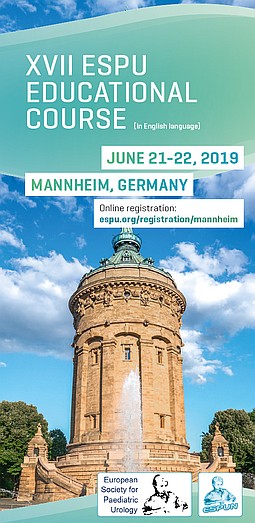 On behalf of the ESPU Educational Committee, we have the pleasure of inviting you to the 17th Educational Course in Paediatric Urology in Mannheim, Germany.
Friday morning will focus on live surgery demonstrations on standard paediatric urology surgery like different kind of orchidopexy or reflux surgery with many useful tips and tricks.
Friday afternoon and Saturday until noon will be dedicated to the wide spectrum of main topics in our field, allowing plenty of time for lively and intensive discussion. The Course will provide an excellent overview of the basics in clinical decision making paediatric urology.
Friday late afternoon we will have a separate workshop on daytime lower urinary tract conditions and enuresis.
Our aim is to provide opportunity for hearty discussion, dialogue and fruitful exchange of opinion in our chosen field of Paediatric Urology.
Raimund Stein & Berk Burgu (Chair of the EC)
---
Congress Administration:
SyKon24 Kongressorganisation
Kartoffelweg 7, D-91183 Abenberg
Tel.: +49 (0) 98 73 . 95 87
Fax: +49 (0) 98 73 . 95 88
Mail:
This email address is being protected from spambots. You need JavaScript enabled to view it.
Accommodation:
Dorint Kongresshotel Mannheim
Friedrichsring 6, D-68161 Mannheim
Tel.: +49 (0) 621 .12 51–0
Fax: +49 (0) 621 .12 51–100
Mail: This email address is being protected from spambots. You need JavaScript enabled to view it.
A limited contingent of rooms is available. Reservations at the latest 4 weeks prior to congress. Keyword for booking is: ESPU EC 2019
Location
University Medical Centre Mannheim, Lehrgebäude "Alte Brauerei", Röntgenstraße 7, D-68167 Mannheim