eUROGEN webinar: Management of bladder exstrophy during childhood
Tuesday 13 April 2021, 18:00 - 19:00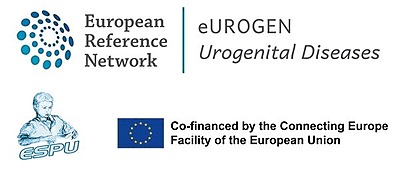 The goal of this webinar is to present the current management of bladder exstrophy in France. It will focus on the timing of surgery after birth; type of closure (Kelly procedure; complete reconstruction); the management of complications after closure (UTIs, dilatation of the upper urinary tract) and the management of persistent incontinence (bulking agents, bladder neck reconstruction, augment and Mitrofanoff).
The webinar will be presented by Prof. Alaa El-ghoneimi (University of Paris, Robert Debré Hospital), Prof. Marc David Leclair (Nantes University and Hospital), Prof. Henri Lottman (University of Paris, Necker Hospital), and Associate Prof. Thomas Blanc (University of Paris, Necker Hospital).
It is aimed at both healthcare professionals and patient groups, and is supported by the European Society for Paediatric Urology (ESPU).
eUROGEN is the European Reference Network for rare and complex urorectogenital diseases and conditions. Our multidisciplinary teams of experts are able to diagnose, suggest treatment or surgery, and then provide post-operative and transitional support. We have full members and affiliated partners across the majority of EU Member States.
For more information or to contact us:
Location
Online virtual event