Date: January 21st, 2017
Location: First Faculty of Medicine, Charles University, Prague, Czech Republic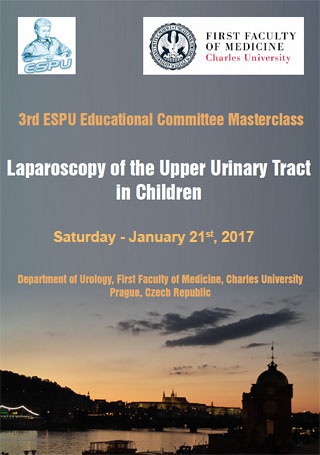 Introduction and concept
Masterclass is a new formula that has recently been introduced by the Educational Comittee of the European Society for Paediatric Urology (EC-ESPU). The aim of such a meeting is to thoroughly discuss one chosen
topic in a small group with specialists. The first course focusing DSD took place at Stockholm (October 2014), the second one concerning incontinence in children with non-neurologic bladder was succesfully organized at Amsterdam (June 2015).
It is our privilege to invite you on behalf of the EC-ESPU and Department of Urology, First Faculty of Medicine, Charles University at Prague to participate in Masterclass in Laparoscopy of the Upper Urinary Tract in Children.
The Masterclass is designed for paediatric surgeons who already have experience in laparoscopy. We will meet in a cosy room in the hospital to keep the meeting warm and interactive. That also means that only a limited number of participants can be accepted. Coffee breaks and lunch will be provided during the day.
Transform your approach and gain deeper understanding of every aspect of laparoscopy of upper urinary tract in children.
We are looking forward to hearing from you.
Marcel Drlík, Radim Kočvara
---
Accommodation
The participants may profit from low rate rooms that have been prereserved at the ILF Hotel Prague (hotel of Czech Medical Society), that is located on the same metro line as the hospital (line C - 10 min of transport).
You can find it on the following webpage http://www.hotel-ilf.cz/
Roome reservations can be made as follows:
Either on-line:

This email address is being protected from spambots. You need JavaScript enabled to view it.

By phone: +420 261 019 370, +420 261 019 373
On reservation the applicant should mention the keyword "Masterclass".
Prices: ILF HOTEL
Single Use: € 35 per night
Double Use: € 47 per night
Methods of payment: Payments on arrival at hotel, in cash or by credit card.
---
The educational event is held in accordance with professional regulation No. 16 of Czech Medical Chamber.